Posted by Code Four Athletics on 4th Feb 2016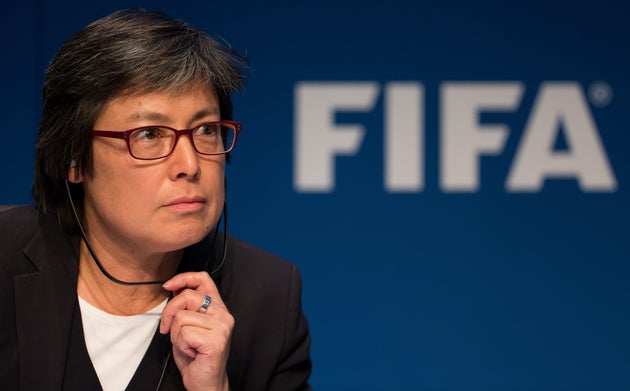 FIFA's top decision-making committee has 25 members. Only one is a woman: Maya Dodd. She's working hard to change that, while pushing FIFA to embrace the notion that women should help shape the world's most popular sport.
by Mike Carter Not only do we at Code Four Athletics offer our own premium brand of custom soccer uniforms and apparel, but we now proudly offer soccer uniforms and gear from Diadora. The storied Italian soccer brand, founded in 1948, continues to create finely crafted soccer kits, warm ups, shoes and more. We offer several [...]
by Mike Carter From FIFA 16 Ultimate Team: Quest for the Best film with comedian Lloyd Griffith, as he searches the world for the top soccer players including Lionel Messi, Ryan Giggs, Gary Neville, Adebayo Akinfenwa and others.Great stuff.
by Mike Carter Weird mascots, flying shoes and a pitch-turned-koi-pond are just some of the "highlights" from 2015, according to Paste Magazine's 10 Strangest Moments in Soccer. Be sure to check 'em out!
by Mike Carter Battle the elements with our exclusive soccer rain ponchos, available in 6 classic team colors, youth and adult sizes. Made of water-resistant nylon with side-snap design and drawstring hood, plus grommets at bottom so you can use it as a tarp too! A great item for soccer players and fans alike, not to mention a very handy [...]
by Mike Carter He's wearing a Messi replica jersey, but we hazard to guess few people can replicate what 11-year-old Jonathan can do: juggle shaving cream, Scotch tape and other household items with his feet! Check out this video of his mad soccer skills.
by Mike Carter Cute, comfortable cotton baby onesie with soccer-theme Born To Kick graphic. Designed with overlapping shoulders for easy on/off, and 3-snap bottom closure. Available in several colors, in 6-months size. Great gift idea for newborn babies who love (or will love) soccer. A unique baby shower gift for sure! Born to Kick soccer baby [...]
'Tis the season to find just the thing for the soccer player, fan, coach or parent on your list! Simply visit Code Four Athletics, where we've put together our own list* of soccer gift ideas. They're all under $25 each!We've got soccer pins, soccer T-shirts, ball bags, soccer coach polos, bags, jackets and more. Happy [...]
by Mike Carter All of us at Code Four Athletics are excited to announce our partnership with Pear, offering teams and clubs across the U.S. the opportunity to earn up to $1,000 and more in sponsorship money toward soccer uniforms and gear purchased from Code Four Athletics. Simply click here to learn how you can connect [...]
Talk about PIN-terest: right now at Code Four Athletics you can save 20% off all of our soccer pins, just by using code PIN20 at checkout. Whether you're looking for a pin to celebrate your child's first goal, or one highlighting a seasoned player's incredible hat trick, we have just the pin you're looking for.We [...]